In the News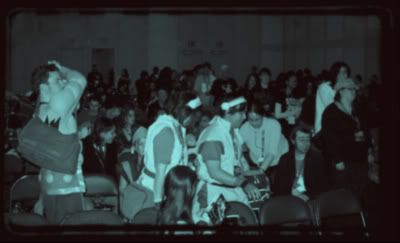 October 4, 2022 - Journalistic coverage of one of my articles at Times Higher Education.
September 7, 2022 - Interviewed by animemangastudies.com.
December 21, 2018 - Quoted in an article on anime at The Good Men Project.
April 24, 2018 - Interviewed by Uproxx about #MeToo and how to be a good male ally.
September 18, 2017 - Keynote at Siegen Transnational Graphic Narratives Summer School reported here.
September 1, 2017 - Quoted in an article about romance novels and the B&N NOOK.
February 25, 2017 - Interviewed by PBS NewsHour. [link]
January 12, 2017 - Voice audio excerpted for a BBC Learning English 6 Minute English lesson. [link]
September 23, 2016 - Interviewed for the BBC World Service's radio show, The Why Factor. [link]
April 19, 2016 - Received a Mary Lyon Award from the Alumnae Association of Mount Holyoke College, which is "awarded at the College's Spring Celebration of Excellence to a young alumna (graduated fifteen or fewer years ago) who demonstrates exceptional promise or sustained achievement in her life, profession, or community, and whose work embodies the humane values which Mary Lyon exemplified in her life and inspired in others."
March 2016 - Appointed to the inaugural Editorial Advisory Board of Inks, the official journal of the soon-to-be-launched Comics Studies Society
November 2015 - Appointed to the Advisory Board of Emerald Studies in Media and Communications.
August 7, 2015 - Internal news annoucement publicizing the release of Global Manga.
July 2015 - Invited to join the Editorial Board of Publishing Research Quarterly, an academic journal published by Springer, as its sole representative member based in the UK.
April 4, 2015 - Gave an invited lecture on "Global Manga: 'Japanese' Comics without Japan?" at the Manga at a Crossroads Symposium at the Ohio State University Billy Ireland Cartoon Library & Museum.
April 2, 2015 - Article published in Journal of Scholarly Publishing was featured in the April issue of Informed Librarian Online.
March 15, 2015 - Quoted in a Glammonitor article on manga and female body image.
March 10, 2015 - "Producing Comics Culture" (2010) featured in Routledge's open access Comic Book and Graphic Novel Collection.
January 22, 2015 - Quoted in GQ UK articles on Hollywood and manga here and here.
July 28, 2014 - 'Cultures of Comics Work,' edited by Casey Brienza and Paddy Johnston, call for book chapters is now open. Deadline for submission is November 30, 2014.
June 2014 - Recipient of an American Sociological Association ISA Travel Grant.
September 2013 - Recipient of a SHARP/DHSI Scholarship to attend the Digital Humanities Summer Institute at the University of Victoria (British Columbia, Canada) in June 2014.
May 16, 2013 - Recipient of the LSE Review of Books's Biteback Prize for Most-Read Review in Media and Cultural Studies.
December 21, 2011 - Sociologists for Women in Society press release.
November 1, 2011 - Op-ed about superhero comics and gender published on Cambridge University website.
January 31, 2011 - My article for Graphic Novel Reporter has been cited in an article translated by the Asahi Shimbun from the Anime Anime Japan Ltd. website.
January 19, 2011 - NYWIFT Takes On Adaptation and the Digital Narrative
November 24, 2010 - Brienza and Priego: The Impact of the Budget Cuts in the United Kingdom on Postgraduate Education posted at 4Humanities
November 21, 2010 - "International Opportunities for Scholars in Communication and Related Disciplines," Report of a mini-conference held as part of the National Communication Association Conference, November 2010, San Francisco, United States
October 13, 2010 - Full audio available of the New York Comic Con/New York Anime Festival Anime in Academia panel
August 22, 2010 - Mentioned in #ASA2010, Multi-tasking the Academic Conference posted at Inside Higher Ed
April 2, 2010 - Categorizing Manga by Standardizing the Paratext posted at In Media Res
June 15, 2009 - Casey Brienza '03 Earns Cambridge Scholarship
November 20, 2007 - Named one of North America's top five manga experts in an Interview with Jason Thompson, author of Manga: The Complete Guide
April 25, 2003 - Three Fulbright Winners Prepare for International Work